SYNOPSIS
'Great Road Pic' - Angelika Entertainment, NYC 
In a desert town somewhere in the Southwestern United States, a young woman named Susan seeks a maverick animal cloning expert who claims he can bring her recently deceased daughter back to life.
Accompanied by her undocumented Mexican immigrant companion, Javier Apollinaire, Susan embarks on a secret journey in order to meet the Doctor.
"I don't make the rules - just bring me the money!"
Enter new rookie federal agent Carl Wisconsin. Carl's very first assignment is to follow Susan in order to find the elusive Doctor and take him down for his illegal activities.
Meanwhile, a struggling Native American potter named Lonnie is on his own mission to some raise desperately needed tuition money to send his daughter to college.
Ultimately, these disparate characters and stories cross paths at one critical moment, and their lives are forever changed as a result...
Meet the Filmmaker
Jason Rosette is a creative, award winning writer-director, filmmaker, and educator with over two decades experience producing motion media in the USA and abroad. He has directed and produced content in the USA, Central America, Mexico, Thailand, Vietnam, Cambodia, and Myanmar, with a particular regional focus on ASEAN-APAC (Asia) between 2005 and the present.
A graduate of NYU Film (BFA), with an MA in International Development studies from Royal University of Phnom Penh, Jason Rosette self-launched his career in New York with the "Utterly compelling" (Jacksonville Film Journal) grass roots feature documentary, 'BookWars' ("Terrific" - LA Times), which he shot, produced, edited and directed while working as a sidewalk bookseller in Manhattan in the mid to late 90's.
Between 2003-2004, Mr. Rosette returned to his former homestate of New Mexico during the infancy of that state's filmed incentives program, to write, produce, and direct the multicultural sci-fi feature road movie, 'Lost in New Mexico'. That scripted dramatic feature enjoyed domestic festival play and a number of positive reviews; the Moving Arts Journal called the movie "a unique and interesting take on the fluidity of technology versus the recurring commonality of the human condition", while it was "Recommended for adventurous viewers" by the Library Journal. It continues to play and stream to this day on VOD and OTT.
Susan
A working class single mother who recently lost her daughter. Overcome by grief, she contacts a pet and animal cloning expert who claims he can bring her daughter back. [Played by Drea Pressley]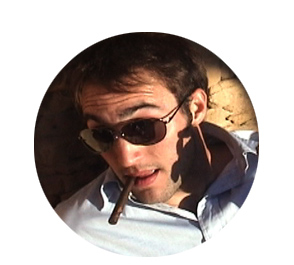 Javier
Javier Apollinaire, an illegal immigrant who crossed the southern US border in search of a better life.  By a stroke of fate, he meets Susan and becomes swept up in her plans. [Played by Jaime Estrada]
Lonnie
A Native American potter of Laguna heritage, Lonnie is on a quest to raise the funds to send his daughter to college. Little does he know he will also cross paths with Susan & Javier [played by David Paytiamo]
Dr. Morell
Maverick geneticist and entrepreneur on the run from a mysterious past, Dr. Kurt Morell sets up shop cloning family pets, prized bulls and racehorses. Susan contacts him asking if he can help her get her daughter back... [Played by Dr. Alan Rice]
Stay in the Loop!
Sign the newsletter for updates regarding 'Lost in New Mexico' and other projects by CAMERADO