Lost in New Mexico: The Strange Tale of Susan Hero is an American independent film shot in and around Albuquerque, New Mexico, Mountainaire, New Mexico, and Grants, New Mexico in 2004.
Post production began in the US, and continued in Southeast Asia, where filmmaker Jason Rosette had relocated for work. Final editing commenced in Lower Manhattan, New York, with delivery of the final cut in 2009.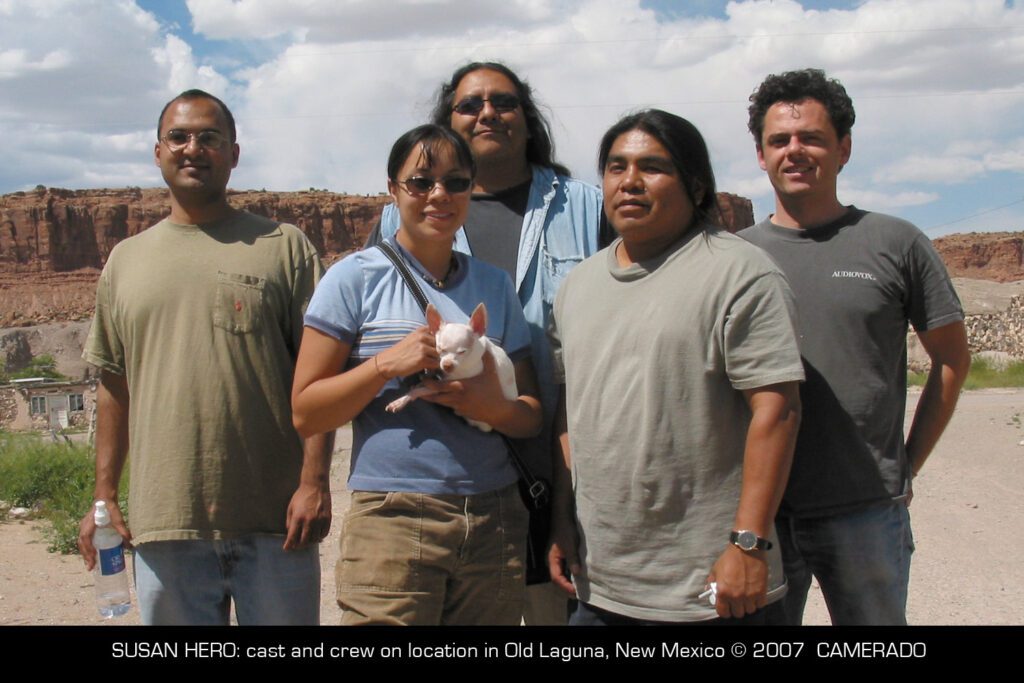 A Pioneering Movie
Overall, Lost in New Mexico is notable for its all-local New Mexican cast and crew, even though the movie had no production or funding requirement to hire accordingly. This diversity factor was simply part of a goal of accurate representation in a story which involved authentic local New Mexican characters.
Shows like Breaking Bad, coming to New Mexico several years later, would benefit from the creative risk-taking of local films like Lost in New Mexico. Indeed, it's often smaller indie film productions which push topical boundaries in areas which may cause some conceptual discomfort. Yet, independent film in New Mexico in turn prepares a more receptive environment for the production of edgier mainstream content later.
Independent Film, New Mexico Style: Diverse Local Cast & Crew
Lost in New Mexico was far ahead of its time in terms of diversity and on-screen representation: a majority of cast and crew are POC (People of Color), mainly Latino and Native American.
The movie, helmed by the filmmaker (who had just completed shooting and editing his feature documentary, BookWars), has a gritty, unscripted*, improvisational style reminiscent of the films of John Cassavetes and Nicolas Roeg. (*the screenplay for Lost in New Mexico was thoroughly written and rewritten over the course of three years, however.)
Finally, Lost in New Mexico broke new with its creative handling of uncommon themes including illegal immigration and human cloning.
The hook of Lost in New Mexico is its human cloning element and the ethical questions that very real dilemma raises. While controversial issues like this are certainly compelling, the film really shines when it explores the emotional implications of such drastic thinking
- Eric M. Armstrong, The Moving Arts Film Journal
The premise, the characters and the general spirit of this movie make it more than another out-of-the-box Indie flick...If Pet Sematary and The Mexcian were ran headfirst into one another, the result might be this movie. That said, it's definitely a fun little Sunday afternoon film to check out.
- Katie Wynne, Rogue Cinema
This atmospheric and moody no-budget feature shot around the city of Albuquerque is aptly marketed by its resourceful director as "a sci-fi cloning road movie for the 21st century."
- Robert A. Sica, Library Journal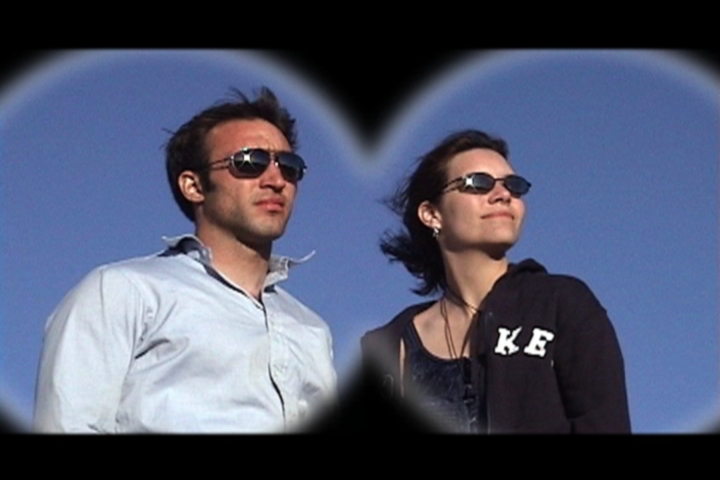 Plot
Lost in New Mexico is the story of a single grieving mother named Susan whose daughter has recently died. Happening upon an ad in a local paper for livestock cloning services, Susan makes contact with animal cloning expert and geneticist, Dr. Kurt Morell.
Morell frequently assists local ranchers with the process of cloning prized bulls and racehorses. After convincing the doctor to assist her by cloning her daughter, Susan steals cash from the box office of the local movie theater where she works and heads off to meet Morell.
A co-worker from the theater, an undocumented immigrant named Javier Apollinaire, gets accidentally caught up in the robbery and flees with Susan to avoid detention by the police and possible deportation.
Government Intervention
Meanwhile, the unlikely couple are tailed by a green field agent from the Food and Drug Administration, Carl Wisconsin (played by the filmmaker). This is Wisconsin's first assignment, and his mission is to foil the cloning arrangement before it can proceed.
Finally, a parallel story takes place, which later intersects with the first. A Native American potter, Lonnie Paytiamo (played by David Paytiamo), is on a quest to secure funds for his daughter's college tuition after a financial aid request falls through.
Lonnie and Susan's path criss-cross as they pursue their separate goals, linking up at one crucial moment.
Watch Lost in New Mexico to see how all their stories unfold!
Filming
Lost in New Mexico began shooting in and around Albuquerque in 2004. The feature is notable in that it is one of only a handful to shoot in nearby Laguna Pueblo, which is property of the Laguna Nation. Laguna Pueblo is home of several of the film's participants, and permission to shoot was arranged accordingly.
Independent film? New Mexico is the Place
Lost in New Mexico  was one of the first independent films to shoot in New Mexico with the support of the newly established New Mexico Film Office film incentives program, which offers rebates to approved, registered productions of all sizes.
According to the New Mexico Film Office filmography for 2004, Lost in New Mexico is one of twenty feature films recognized to be shooting in New Mexico that year.
Factoids & Trivia
New Mexico Connection
Lost in New Mexico' was made in New Mexico in 2003-2004 with all local cast and crew just prior to the state's emergence as a well-known film and TV production hub. Writer-Director Jason Rosette had already worked on several productions while living in New Mexico, including the Sam Elliot feature 'Desperate Trail'. In the early and mid 90's, he edited his first scripted drama ('Charlie's Box') and his first feature documentary, ('BookWars') in Albuquerque. He was thus enticed to return in 2003 to cast and produce 'Lost in New Mexico' due to his fondness for the landscapes, locations, and people of the state.
Incentives and the Guild
Despite its micro-budget, the production secured a rebate from the newly established New Mexico film incentives program. At the time, the Screen Actor's Guild did not have a microbudget feature agreement in place. Thus, the director took a voluntary hiatus from the union in order to appear in his own feature, as the workman's compensation fee he would have had to pay to appear in his own film would have been beyond the budget of the production...
Dust-Up!
Some controversy followed the production of 'Lost in New Mexico' after the movie's director wrote a letter to (then-)governor Richardson's film office, encouraging the development of local #NewMexico talent and crew, versus focusing exclusively on attracting out of state productions. There was some significant resistance to this notion at the time, leading to a sizeable 'dust-up' and consequent obstacles to the movie's release as a result.
However, capacity building in the local New Mexico film industry has since been fully implemented, with world-class levels of local talent and crew being developed as a result. This is a centerpiece of the many reasons out of state productions elect to shoot in NM.
CAST & PARTICIPANTS
(in alphabestical order)
Larry Braslow ... FDA Boss Alvin York
Jack Burning ... Movie Goer
Carlos A. Cabarcas ... Sanghpop Elpee
John D. Champion ... Movie Goer
Dana Delleflores ... Movie Goer
Haley Drummond ... Movie Goer
Jaime Estrada ... Javier Appollinaire
Alice Fernando-Ahmie ... Alice
John Francis ... Pierce Hope
Marc Gonzales ... Movie Goer
Christopher Hagen ... Nervous Guy
Isabel Juarez ... Movie Goer
Ray Leos ... George Boole (voice)
Valerie Mainville ... Movie Goer
Jeff Mocho ... Movie Goer
Juan C. Molina ... Movie Goer
Ralph Montoya ... Movie Goer
Dug Moore ... Radio Interviewer (voice) (as Douglas Gentry)
Carrie Morrisson ... Evil Woman (voice)
David Paytiamo ... Lonnie Paytiamo
Vatsana Phaybouth ... Movie Goer
Drea Pressley ... Susan Hendricks
Alan Rice ... Dr. Kurt Morell (as Dr. Alan Rice)
Jason Rosette ... Agent Carl Wisconsin (as Richard Rhodes)
Patrick Stayton ... Chuck Wing (voice) Andrew Thomas ... Flute Player
Matthew Valdez ... Movie Goer
Jan van Bangkokus ... Evil Man (voice)
'Lost in New Mexico: The Strange Tale of Susan Hero'
Written and Directed by Jason Rosette
Produced by Camerado Media